5440 Lake Road • Medina, OH 44256 • P.O. Box 340
Contact A Reinhardt Supply Expert : Toll Free 1-800-433-4613
Trash Receptacles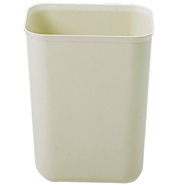 Ash Receptacles
Garbage Cans
Litter Awareness Devices
Poolside Ash/Trash Containers
Rubbermaid Trash Containers
Sand Urns
Sanitary Napkin Receptacles
Step-on Cans
Swing-top Receptacles
Waste Baskets (Metal & Plastic)
Wall Urns
Featured Product
Wastebaskets by Rubbermaid
2540 Fire Resistant Wastebasket
Contemporary shape with UL rating.
Rounded corners add strength and are easy to clean.
Long-lasting fiberglass resists chips and dents and won't rust.
Textured finish helps minimize the appearance of surface scratches.
Tested and classified by Underwriters Laboratories as able to contain burning paper without the wastebasket melting or contributing fuel to the container's contents.